Best Floral Organza Sarees To Wear This Summer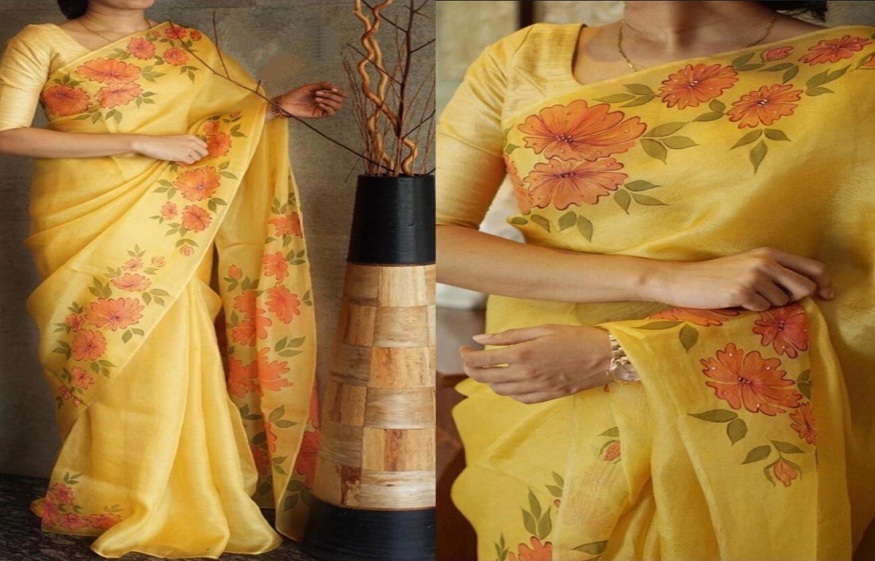 Without a doubt, floral prints are a summer and spring staple and are sure to never go out of style anytime soon! From embroidered to printed to hand-painted styles, no matter what, floral prints seem to instantly liven up any of your summer and spring outfits. If you haven't already hoarded up on this trend, i.e. floral printed tops, dresses, t-shirts and more, one sure shot way to do so is with gorgeous floral printed organza sarees. Light-weight, flowy, flirty and perfect for events both traditional and casual, a floral printed organza saree is sure to get you all the attention that you deserve this summer. Here we have listed down some of the elegant styles of floral printed organza sarees that are definitely going to become your summer essential.
1.Bold Floral Printed Organza Sarees
There's quite the charisma that these bold floral printed organza sarees carry. The perfect pieces to have anyone attention instantly, bold floral printed sarees in pop hues like lilac, mint green, pastel pinks and yellows make for the perfect addition to your traditional summer wardrobe. Simply, pair these sarees with a sleeves blouse and traditional choker necklace to attain an awe-inspiring look.
2. All-Over Floral Printed Organza Sarees
If you are to opt for an all-over floral printed organza saree, our best bet is to go for the ones that feature tiny floral prints all over. Opting for an all-over floral printed saree with bold florals can make your look appear over the top and as well as quite heavier and bold. Style an all-over floral printed saree with a neutral-toned blouse and a pair of huge chandbalis to highlight the elegance of the saree even more.
3. Hand-Painted Floral Organza Sarees
If there is one thing to do right, it is to go for a hand-painted floral organza saree this summer! Light-weight, flowy and comfortable, these sarees summer coat make for the perfect pick for daytime occasions during the hot summers. Plus, the hand-painted florals seem to a personal touch to your overall look. A must-have in your collection, complete the look by styling these elegant sarees with raw silk blouses in matching hues and some elegant pearls.
4. Summer-Ready Pastel Organza Sarees
While bright colours are the go-to pick for summers, pastels are the mantra you need to remember when opting for floral printed organza sarees this summer. Floral printed organza sarees in pastel hues not only look enchanting but hold a special place for Indian summers. The vibrant elegance of these sarees matched with floral prints sends out a very fusion yet fashion-forward appeal. Pair these sarees with matching blouses and minimal accessories to turn heads this summer.
5. Pleasant White Organza Sarees
Organza sarees in a pleasant white or off-white base not only looks very eye-soothing but is also very summer-friendly. Add to it multi-hued floral prints in stunning designs, and voila you have the most perfect summer look for traditional festivities and events. Play around with contrast colour blouses and accessories to elevate your summer look even further with a floral printed organza saree.